White Paper: TiVo Q4 2016 Pay-TV and Online Video Trends Report
This week's FierceCable is brought to you by TiVo.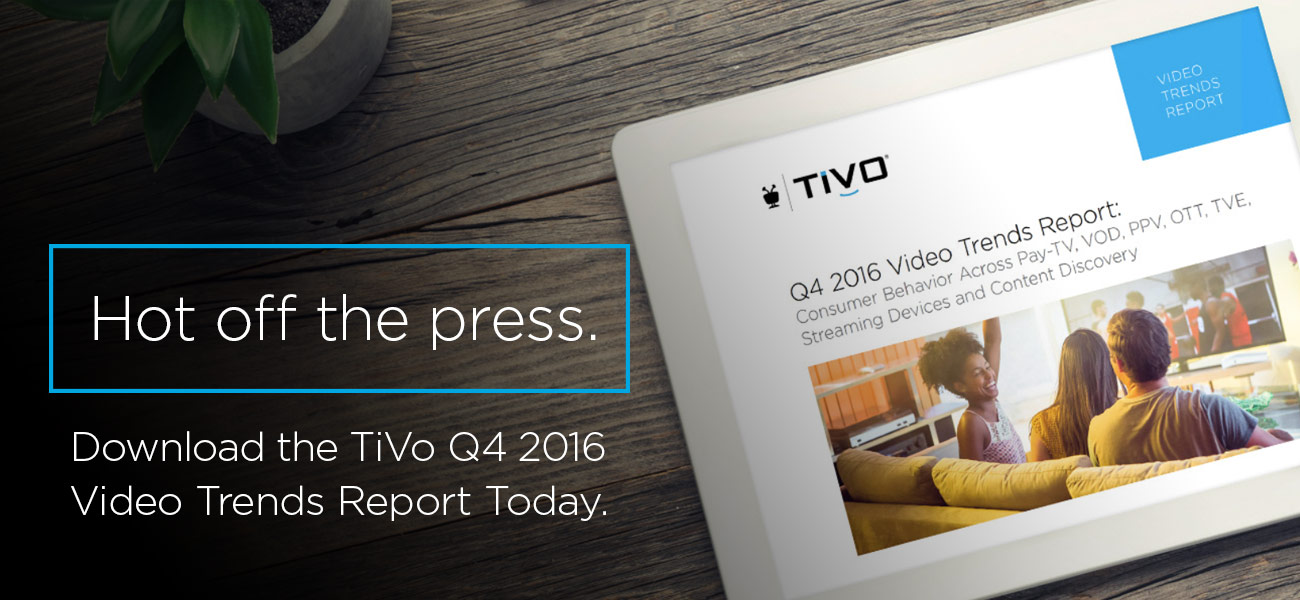 Q4 2016 Video Trends Report:
Consumer Behavior Across Pay-TV, VOD, PPV, OTT, Connected Devices and Content Discovery
2016 was a busy year in the entertainment industry with OTT providers and digital publishers expanding the ways consumers can watch their favorite TV shows and movies. Whether it was original content from OTT providers or through pay-TV channels, viewers watched more content on more devices than ever before. Given all the options available, it's essential for pay-TV providers to keep a pulse on TV's evolving landscape, as well as how these changes affect consumers' viewing habits and perceptions of providers.
Download the newest edition of our quarterly report to get insightful, unbiased feedback on key topics including:
New: A shocking trend in U.S. and Canadian respondents' ideal price for their top 20 desired channels in an à la carte pay-TV package
New: Real feedback and answers regarding the dramatic decrease in respondents' viewership of National Football League games
New: Detailed analysis of how owning a streaming device can affect respondents' plans to cut pay-TV service or switch to solely using streaming services
Quarter-over-quarter and year-over-year trends across pay-TV, VOD, PPV, OTT, TVE, TV network apps, connected devices and content discovery
TiVo | 2 Circle Star Way | San Carlos, California 94070 | USA
Phone +1 866.686.8947 | getconnected@tivo.com | tivo.com

| | |
| --- | --- |
| © 2017 TiVo Corporation. All rights reserved. | |
Want to reach 50,000+ FierceCable subscribers with your own message?
Contact kgray@fiercemarkets.com or call 202-824-5054.

About this email: In order to receive FierceCable for free, we ask that you accept an occasional email promotion from our sponsors. We carefully screen each promotion and never sell or give away your personal information. If you do not want to receive these messages, you can unsubscribe entirely from FierceCable. Click here to unsubscribe.
FierceMarkets, a division of Questex, LLC
1900 L St. NW Suite 400
Washington, DC 20036