White Paper: TiVo Q4 2017 Pay-TV and Online Video Trends Report
This week's FierceCable is brought to you by TiVo.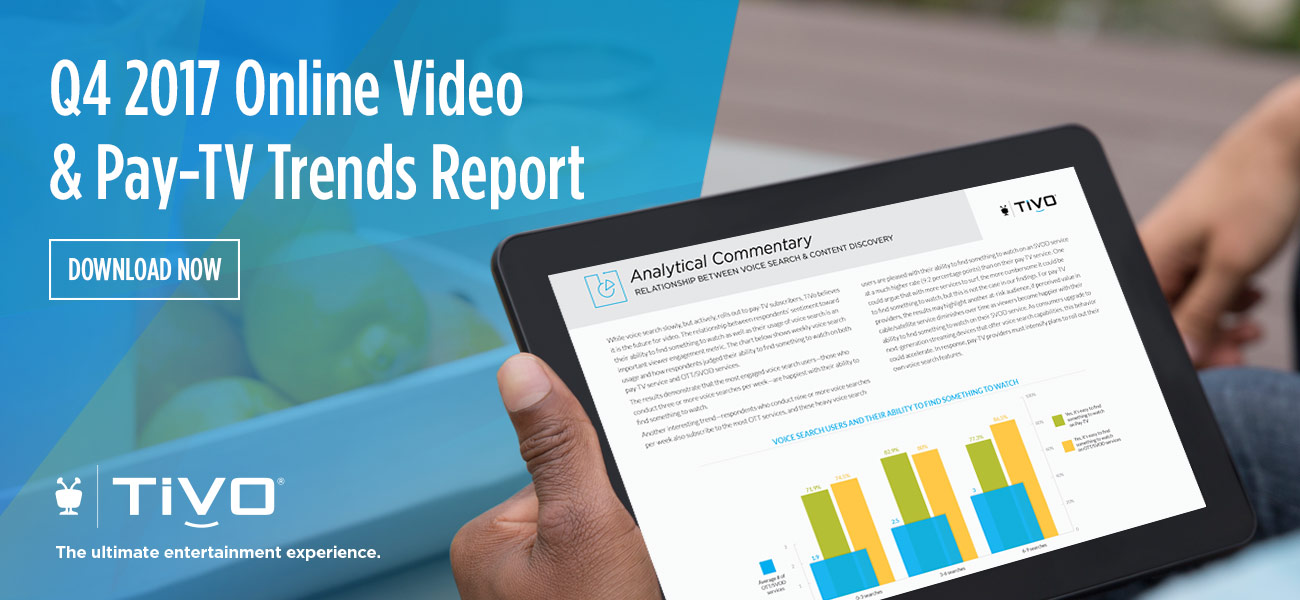 Consumer Behavior Across Pay-TV, OTT, Connected Devices and Content Discovery
In 2017, the pay-TV landscape continued to evolve—and some of the most monumental evolutions included significant developments in streaming options, increased broadcast capabilities for live sporting events and expanded home integrations for smart devices. To remain competitive, pay-TV providers, vMVPDs, streaming providers, broadcast networks, and device manufacturers must keep a pulse on the expanding video landscape and monitor how these changes affect consumer viewing habits and perceptions of TV offerings.
Download TiVo's quarterly report for insightful feedback on key topics, including:
Quarter-over-quarter and year-over-year trends across pay-TV, OTT, TV network apps, connected devices and video content discovery.
The most popular smart speakers, and how consumers use them.
Respondents' preferred devices for voice-enabled discovery, and whether voice search is beneficial in helping viewers find something to watch.
The evolving world of sports content and how streaming is affecting viewership of sporting events.
A deep dive into sports viewers and who they are, along with the viewing habits of respondents who stream sporting events.
TiVo | 2160 Gold Street | San Jose, California 95002 | USA
Contact Sales: +1 916.473.5252 | getconnected@tivo.com | tivo.com

| | |
| --- | --- |
| © 2018 TiVo Corporation. All rights reserved. | |
Want to reach 49,000+ FierceCable subscribers with your own message?
Contact kgray@fiercemarkets.com or call 202-824-5054.

About this email: In order to receive FierceCable for free, we ask that you accept an occasional email promotion from our sponsors. We carefully screen each promotion and never sell or give away your personal information. If you do not want to receive these messages, you can unsubscribe entirely from FierceCable. Click here to unsubscribe.
FierceMarkets, a division of Questex, LLC
1900 L St. NW Suite 400
Washington, DC 20036